Sunday Services
Sundays at 9 AM and 11 AM.
Summer schedule: 10 AM only
 Listen to Past Services
Upcoming Services:
ONE SERVICE AT 11 AM IN THE SANCTUARY
In scrolling through clergy resources on line recently, I cam across a graphic with words something like this: grace is that moment when love meets imperfection. There is more to it than that, I'm sure. And that's where this Sunday's reflections will start.
Rev. Tracey Robinson-Harris will lead the service.Read more
News & Events
In January of 2016, the congregation voted (5th principle) to hang a banner showing our support for the Black Lives Matter movement, and here's why.
First... Read more
Friday, April 27th, 2018 (All day)

to

Sunday, April 29th, 2018 (All day)
Our church retreat at Ferry Beach is fast approaching (April 28-30). For those of you who are not familiar with the retreat, this is a weekend spent with FPC family
...
Read more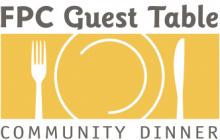 Friday, May 11th, 2018 - 5:30PM
FPC Guest Table serves a community dinner on the first Friday of each month at First Parish Church of Stow & Acton. We welcome everyone from Stow, and its surrounding towns, who are looking for a sense of community, or just want a change of... Read more